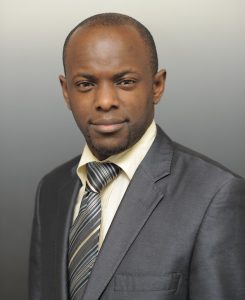 Juriste International
New York
T: (+1) 212-922-0040
F: (+1) 212-954-5431
smatschinga@cabemery.org
Download CV
Dr. Sancy Lenoble Matschinga is an International Jurist admitted to practice in Paris.
Prior to joining the law firm in 2013, he worked in law firms, at the Interior Ministry, and at the Council of State in France. His areas of practice include public business law (public contracts, public procurement, PPP, infrastructures). His areas of practice also include mining and natural resources law.
In his professional practice, he is involved in the natural resource sectors (mining law, hydrocarbon law, forestry law, hydraulic resources law and agricultural law), infrastructures (energy law and telecommunications law) in French speaking African countries. He has advised numerous clients in these areas and has published several analyses in these fields.
Dr. Lenoble Matschinga holds a PhD in law, a Master's degree in public and private law from Evry Val d'Essonne University (France), a Master's degree in public business law from Paris 1 Panthéon-Sorbonne University (France), and a Master's degree in law from Marien-Ngouabi University (Republic of Congo). Furthermore, he holds a certificate of the Innovation For Economic Development (IFED) executive program from Harvard Kennedy School, and a certificate of the Master Series for Distinguished Leaders from the Skinner Leadership Institute in Washington, D.C. He speaks French and English.
He is a member of the French-American Bar Association.