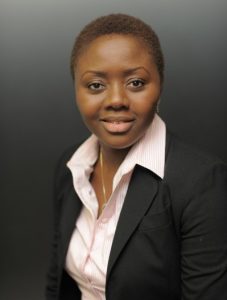 Associate
New York
T: (+1) 212 922 0040
mayifuila@cabemery.org
Download- CV
 Admitted to the New York Bar (2010). She is an associate and office manager of the New York branch of Emery Mukendi Wafwana & Associates since September 2010. Her practice includes business law (USA, DRC & OHADA), mining, energy laws and natural resources (DRC & OHADA), corporate law (USA, DRC & OHADA), Foreign Direct Investment in French-speaking Africa as well as US federal and state litigation. She holds a JD in private law and civil procedure (DRC) and a JD in business law (France). She also holds a Master Degree in European business law (France) and a LL.M. degree in banking, corporate and finance laws from Fordham University, School of Law (New York). She speaks French, English, Italian and Lingala.
---
Maître  Nady MAYIFUILA Dina est admise au barreau de l'Etat de New York, aux Etats – Unis, depuis mai 2010. Elle est également admise devant le Tribunal Fédéral américain du Commerce International (U.S. Court of International Trade) ainsi que le Tribunal américain de district fédéral, pour les districts Sud et Est de New York (U.S. District Court, Southern District of New York et U.S. District Court, Eastern District of New York). Nady Mayifuila Dina est aussi détentrice d'une licence de Notaire Publique (Notary Public) de l'Etat de New York.
Nady Mayifuila Dina a fait ses études de droit, mention droit judiciaire et privé,  à l'Université Protestante au Congo (UPC), à Kinshasa en République Démocratique du Congo (RDC). Elle détient également une maîtrise en droit des affaires de l'Université Nancy 2, en France ainsi qu'un master en droit Européen des Affaires de l'Université Paris X, en France.
Par ailleurs, Nady Mayifuila Dina détient un LL.M. en droit bancaire, droit des sociétés et droit financier, de l'Université de Fordham, à New York aux Etats-Unis.
Son domaine d'intervention comprend le droit des affaires, le droit des sociétés, le droit des contrats, le contentieux, l'arbitrage, le droit commercial  international, le droit des investissements financiers ainsi que le droit des investissements directs, notamment dans les ressources naturelles.
Sa triple formation lui permet d'offrir des conseils juridiques aux clients du cabinet aussi bien en droit congolais (y compris droit de l'Organisation pour l'Harmonisation en Afrique du Droit des Affaires – OHADA) en droit français, qu'en droit américain.
Elle est le co-auteur d'un article sur les formes d'implantation aux Etats-Unis, publié par la mission économique française pour les Etats-Unis, dans la revue «S'implanter aux Etats-Unis», éditions UbiFrance, 2009-2010.
Nady Mayifuila Dina est également l'auteur d'un article sur l'adhésion de la RDC à l'OHADA, publié dans «Africa Law Today», en avril 2010 et « ENR Global Report », en mai 2010, deux lettres d'informations de la section internationale, comité sur l'Afrique et comité sur les ressources naturelles, de l'Association du barreau américain (American Bar Association – ABA).
Nady Mayifuila Dina est membre de l'ABA, section internationale, membre de l'association du barreau de la ville de New York (The New York City Bar Association), comité sur les affaires africaines et membre de l'association des avocats du conté de New York (New York County Lawyers' Association).
Elle sert de conseiller juridique, à titre bénévole, à l'association sans but lucratif dont elle est membre, «UpliftingMySister», qui est une association qui travaille à fournir des bourses d'études à des très jeunes filles de pays défavorisés, notamment la RDC.
Avant de rejoindre Emery Mukendi Wafwana & Associates, P.C., en septembre 2010, Nady Mayifuila Dina a travaillé dans différents cabinets d'avocats américains, où elle a notamment eu l'occasion d'assister des petites et moyennes entreprises françaises (PME) dans leurs efforts d'installation et d'implantation aux Etats-Unis ; elle a collaboré avec un cabinet américano-algérien dans la rédaction d'un article sur les opportunités d'investissement en Algérie ; Elle a également eu l'opportunité d'assister des investisseurs internationaux en matière d'investissement dans les pays émergeants, notamment le Brésil, le Ghana et les Emirats Arabes Unis.
Elle fut également juriste bénévole, durant ses études, auprès de l'association française de défense des consommateurs – UFC Que Choisir, à Nancy.
Nady Mayifuila Dina est le directeur exécutif de la Foundation for a Unified Business Law in Africa, une organisation à but non lucratif qui a pour but de faire connaître le droit OHADA aux Etats-Unis.
Elle travaille actuellement à la rédaction d'un article, en français, sur la loi américaine de 1977 contre les pratiques étrangères de corruption  (U.S. Foreign Corrupt Practices Act).
Nady Mayifuila Dina parle Anglais, Français et Italien,