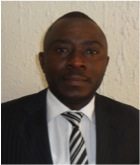 Associate
Matadi
T: (+243) 1 151 600 20
ltsasa@cabemery.org
Admitted to the Bar of Matadi (2003). Mr. Lucien Tsasa Ngoma is an associate and joined the law firm Emery Mukendi Wafwana & Associés in 2008. His areas of practice include general commercial, law, corporate law, labor and social security law, transportation law (land, sea and lake), insurance law, civil law (family law, contract law, property law), law on Hydrocarbons, customs law, OHADA law and litigation. Mr. Lucien Tsasa Ngoma holds his law degree in private and procedural law from the University of Kinshasa since 2001. He speaks French, English, Lingala and Kikongo.
---
Maître Lucien TSASA est ressortissant de la RDC. Il est licencié en Droit de l'Université de Kinshasa, Option Droit Privé et Judiciaire, Département de droit Pénal et Criminologie.
Inscrit au Barreau de Matadi depuis 2003, Maître Lucien a toujours  exercé  sans discontinuer, sa profession d'Avocats.
Il est intervenu tant dans des procédures transactionnelles, pré-juridictionnelles que juridictionnelles, et ce dans tous les domaines essentiels du droit, pour le compte des personnes  physiques et morales, de nationalité congolaise et étrangère. Il a œuvré comme associé au cabinet du Bâtonnier du Barreau de Matadi, le Cabinet Bâtonnier ZAKAYI et Associés, avant de s'associer au cabinet Emery MUKENDI en 2011.
QUALIFICATIONS
Avocat au Barreau  de Matadi (RDC)
ETUDES FAITES
Graduat en droit de l'Université de Kinshasa en 1997
Licence en droit de l'Université de Kinshasa en 2001
PUBLICATIONS
La problématique de l'indemnisation des victimes des faits infractionnels commis par les mineurs à travers les cas de jurisprudence ( Travail de fin de cycle de graduat)
L'indemnisation des victimes en droit congolais (mémoire de licence, 2001)
La protection des consommateurs en droit congolais : mythe ou réalité ? (atelier d'échange des opérateurs économiques du Bas-Congo à Matadi)
DOMAINES DE PRATIQUE
DROIT DES SOCIÉTÉS
Maître Lucien TSASA intervient avec aisance dans le traitement des dossiers qui requièrent l'application du droit des sociétés. Le droit commercial fait également partie de son domaine de prédilection.
DROIT COMMERCIAL
lorsqu'il traite les matières relatives au droit commercial, Maître Lucien TSASA est brillant, grâce à l'expérience acquise tout au long de sa carrière d'Avocats, avec les nombreux dossiers qu'il a traités avec succès.
DROIT DES ASSURANCES
C'est encore un domaine où Maître Lucien TSASA est intervenu le plus souvent, et ce à la grande satisfaction des victimes ayant subi des sinistres de tous genres, qui le plus souvent ont obtenu réparation des préjudices subis.
DROIT DE L'OHADA
Maître Lucien TSASA est particulièrement intéressé aux questions soulevées par l'organisation pour l'harmonisation du droit des affaires en Afrique, OHADA en sigle. A plusieurs reprises, il est intervenu, notamment par voie de médias, pour analyser et commenter certains traités et actes uniformes de l'OHADA.
DOMAINE DES TRANSACTIONS
Maître Lucien sait, selon les cas,  proposer ou adhérer à des compromis pour un règlement amiable des litiges nés ou à naître, un mauvais arrangement valant mieux qu'un bon procès. Cette démarche aboutit à la signature d'actes transactionnels valant jugement rendu en dernier ressort.
LANGUES PARLÉES
Anglais
Français
Lingala
Kikongo
Kiyombe