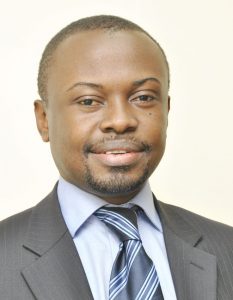 Associate
Kinshasa
T: (+243) 1 512 4738
otshudiema@cabemery.org
Download- CV
Admitted to the Bar of Kinshasa/ Matete (2009) and qualified expert in field interpretation before the International Criminal Court (2007). Mr. Emmanuel Otshudiema Bengu is an associate and joined the law firm Emery Mukendi Wafwana & Associés in 2009. His areas of practice cover contract law, land and real estate law, corporate law, general commercial law, labor and social security law, mining hydrocarbon law and OHADA law. Mr. Emmanuel Otshudiema Bengu holds his law degree in economic and social law from the University of Kinshasa since 2006. He speaks French, Lingala, Tshiluba, Otetela and Swahili.
---
Maître Emmanuel OTSHUDIEMA BENGUest licencié en droit économique et social de l'Université de Kinshasa depuis 2006 et est avocat au barreau de Kinshasa-Matete depuis 2009.
Il est breveté et expert en interprétation de terrain de la CPI après avoir  participé en 2007 à la formation en techniques d'interprétations de la Cour Pénale Internationale, organisée à Kinshasa par la Cour Pénale Internationale.
Il preste en tant que jurisconsulte depuis 2008 au sein de Juricongo (un portail de droit Congolais, Africain et International et une bibliothèque virtuelle sur internet : www.juricongo.com).
En 2009, il a rejoint le cabinet Emery Mukendi Wafwana & Associés (Cabemery), un cabinet d'avocats et des mandataires en Mines et Carrières.
Dans la pratique professionnelle, il intervient dans tous les domaines du droit plus particulièrement en droit des Immobiliers, droit des Sociétés, droit Commercial, droit des Obligations, droit du Travail, droit des mMines et Hydrocarbures, droit de l'Organisation pour l'Harmonisation en Afrique du Droit des Affaires, « OHADA ».