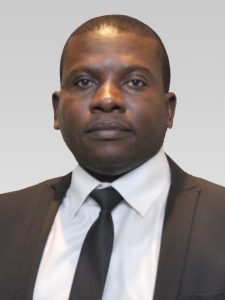 Associate
Johannesburg
T: (+27) 11 78 35 750
fkalema@cabemery.org
Download- CV
Admitted to the Bar of Matadi (2009) and Foreign Legal consultant in Johannesburg (2010). Mr. Fulgence Kalema Bwatunda is an associate and joined the law firm Cabemery and Partners (PTY) Ltd. in 2009. His areas of practice include mining and hydrocarbon law, commercial law, investment law, corporate law, OHADA law and International arbitration law. Mr. Fulgence Kalema Bwatunda holds his law degree in private and procedural law from the University of Kinshasa since 1995 and holds a postgraduate in law from the Southbank University in London since 2005. He further holds a postgraduate in law (legal practice course) from the College of Law in London since 2007. He speaks French, English, Lingala and Kikongo.
---
Maitre Fulgence KALEMA BWATUNDA est avocat au Barreau de Matadi depuis le 10 janvier 2009, après  avoir preste comme défenseur judiciaire  près les Tribunaux de Grande Instance de Kinshasa et assistant du secrétairegénéral de la Compagnieaérienne Air Transport Office (1993-1995).Il est consultant légal a Johannesburg ( Afrique du Sud).
Maitre Fulgence Kalema Bwatunda est licencié en droit privé et judiciaire de l'Université de Kinshasa depuis 1995. Il obtint le diplôme des sciences juridiques (GraduateDiploma in Law ) à l'Université de London South Bank a Londres ( Angleterre) en 2005. Deux ans après, il obtint le diplôme de droit et pratique judiciaire  au College of Law ( Londres) en Angleterre.
Maitre Fulgence Kalema Bwatunda a rejoint le cabinet Emery Mukendi Wafwana & Associés (RDC) en janvier 2009, avant de prester comme Legal Consultant à Johannesburg au sein de Cabemery & Partners (Pty) Ltd en Afrique du sud.
Dans sa pratique professionnelle, il intervient dans les domaines suivants : droit des mines et hydrocarbures, droit commercial, droit des sociétés, droit des investissements et droit de l'arbitrage international. Il conseille aussi en droit britannique, en droit de la RDC et en droit de l'Organisation pour l'Harmonisation en Afrique du Droit des Affaires, « OHADA ».