Upio Kakura Wapol, certified Doctor at law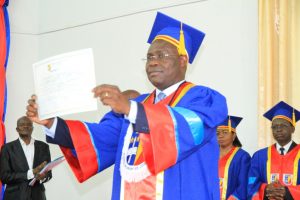 Before a panel of eminent professors of the Law Faculty of the University of Kinshasa, formerly known as Louvanium, namely Professor Marie-Thérèse Kenge NgombaTshilombayi, Dean of the Law Faculty and chairperson of the panel, Roger Kola Gonze, Grégoire Bakandejawa Mpungu, Jean-Michel Kumbuki Ngimbi, Victor Mboyo Empengeea Longila, Gustave Beya Siku and Jean-Paul Shotsha Katshunga., Counsel Upio Kakura Wapol submitted his doctoral dissertation on « The legal system of commercial airports – Input to the study of Congolese airport law » dated 2 march 2016.
Following a brilliant defence of his thesis, and after deliberation, the panel officially recognised him as Doctor at law with « first class honours ».
Counsel Upio Kakura Wapol is an advocate of the Bar of Kinshasa/Matete, and has served as the Director of Legal Affairs at the National Airways Operator (RVA). Pursuant to that role, he has taken part and negotiated several international agreements and conventions involving civil aviation at the African Commission for Civil Aviation (CAFAC) and the International Organisation for Civil Aviation (OACI). He has also occupied the position of national deputy and Minister for Human Rights.
Following the defence of his thesis, Doctor Kakura Wapol further enhances our team's capacity in the area of transport law, and this, for the benefit of our clients.